How to Build and Manage a Remote Sales Team
Blog
Apr 08, 2020
5 min read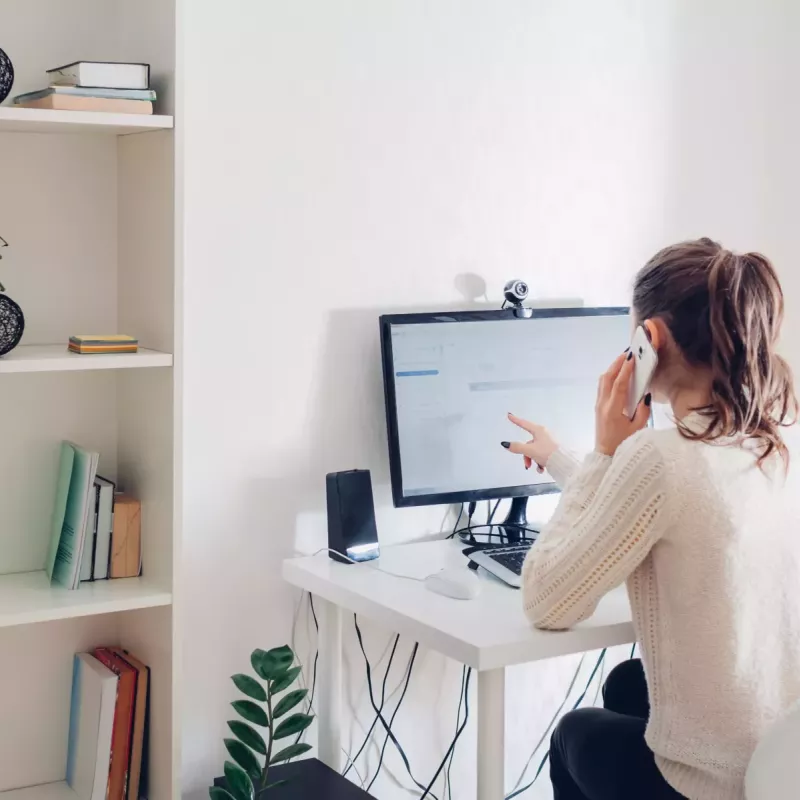 For many organizations, it's been a challenge effectively building and managing a remote sales team quickly. Here are our tips to make the process easier.
Recently, I had a friend in the industry reach out to me about methods to effectively build-out and manage a sales team that would be 100% remote. While this was triggered by the recent outbreak of COVID-19, this applies to any company running a distributed sales team that does not have a physical sales bullpen.
First and foremost, communication is solved through technology. A combination of products, such as Zoom and Slack to provide channels—in addition to calls and emails—is critical for a remote sales force. Zoom's video calling keeps the meetings personal, and Slack keeps the inbox from exploding with reply-alls from team members trying to show that, yes, they are still working. 
But the next challenge is keeping the energy flowing without the benefit of the bullpen. While the distractions of co-workers might be gone, there are new temptations that can keep someone from working on building their pipeline, crafting the next proposal, or prepping for the next sales call. So what can we do? First thought—rethink paying for activity.
Activity-based Incentives
I will admit that I have always been skeptical of activity-based incentives (ABIs). While I first embraced them as part of my argument for eliminating the new hire sales draw, I remained reticent to apply them across all reps regardless of tenure. These are payments for—in my opinion—doing your job. For a fully on-boarded sales rep, they are often tied to making call notes, updating the CRM, recording the next steps, etc. 
George John, from the University of Minnesota, changed my mind. In a paper presentation I attended, he shared his research: Do Activity-Based Incentive Plans Work: A Large-Scale Field Experiment. 
This experiment, done in collaboration with M. Viswanathan (University of Arizona), R. S. Rao (University of Texas-Austin), and S. Kishore (McKinsey), explored the impact of adding ABIs to a sales force. Here are the key takeaways:
Adding ABIs increased the reporting of measured and paid for activities by 4%. This should come as no surprise, as people WILL do what we pay them to do.
More importantly, by adding the ABIs, the firm experienced a revenue increase of 8%. 
In the experiment, a major factor was tracking certain key activities that were hypothesized to be related to successful business. This brings me to applying the research.
How Could I Leverage ABIs? Two Quick Applications
1. Identify the Critical Activities 
Is it calls made? Emails sent? RFPs submitted? Personal ABM campaigns executed? Go back through your CRM and the last score or more of won deals. Look for patterns in the early stages of the opportunities, and start paying for hitting some of those OBJECTIVELY MEASURABLE milestones or activity levels.
2. Run a Bonus for Completely Cleaning up the CRM 
Every rep will say they are too busy to do a full audit. However, during a recession or slow time is a perfect opportunity to update the records with new contacts, notes from conversations, etc. You could offer a quick SPIF (paid in home delivery of food or wine) for the reps that hit 100% audit status by the end of the month. In fact, you might do this BEFORE #1.
3. Start Looking for Additional Sales Contests
It could be new companies identified as targets, or total pipeline added at different stages. How about the best pipeline as measured by enough potential business at each stage? Again, you are looking for ways to drive reps to do the work that you SHOULD have been checking when they say 10 feet away. Now, you let some variable pay be the "in-their-face" manager instead.
The Challenge of Working from Home
Years ago, I worked from home for a consulting firm, in an era that predated most of those types of arrangements (to give perspective – my internet was blindingly fast with a dual ISDN setup. Google it.). It was a failure. Too much of our business necessitated face-to-face conversations with teams, and neither the firm nor I were ready for managing a remote workforce. 
Since then, I have had successful remote employment and the successful management of a remote salesforce. Here are a couple of final tips for managing a remote sales team (you can see even more tips here):
Check Your Assumptions: If you are a senior-level employee, you might have a home office. Your newly hired rep might be in a shared apartment with nothing more than their bedroom to make calls from. 
Get Outside: Nobody works for eight hours or more straight at the office, no need to assume you or your team have to sit at your home office setup 
Leverage Video Conversations: Nothing like seeing someone's face for a morning "stand-up" style call. 
Rethink Your Meeting Cadence: Meetings should always matter, but how many are truly critical?
And for your team, here's some advice from our Xactly's internal salespeople in the thick of transitioning to a work-from-home sales team:
Blocking time is a big one! WFH it's easy to get stuck on one thing for a while/lose track of time so it's helped me a lot to divide up my day. Also, just daily check-ins with the team, not only to connect on work stuff but for some personal interaction!
Wake up as usual; do your hair. Compartmentalize [and] create time blocks for the day's activities and stick to them (prospecting, meetings, workouts, etc.). Get some sun when possible, drink lots of water, eat your veggies, and spend some time learning new skills. Most importantly, control what you can, don't sweat what you can't.
The ways I've tried to stay productive are: 1) Prepare to work as if I was going into the office. I exercise or walk before "going into work;" 2) Schedule calling hours at least once per day; 3)Coffee, coffee, coffee; 4) Keep distractions to a minimum. By that I mean, I do not turn on the TV (especially not the news) and I limit my social media time until after 4 pm; 5) I give myself screen breaks at least once an hour. I step outside for 5 minutes or listen to a song I like; 6) Stay in constant contact with my teammates.
Two things that have helped me keep my sanity are: 1) Taking more walks with my dog to get some fresh air and escape self-quarantine. If I have to 'suffer' in my home office for weeks with limited human interaction, my dog certainly doesn't! 2) Each day, I've found some open time on my calendar and listened to a new chapter on an Audible book, read a new blog/LinkedIn post or watched a webinar that has been on my list for a while.
So What Next?
I will not prognosticate on how long this is going to last, but I do think that when this does end there will be 3 types of firms:
Those that survived.
Those that adjusted and prospered, and now are re-thinking the ROI of a physical bullpen.
Those that are no longer with us.
Good Hunting. 
You can discover more tips on transitioning your sales force to remote operations in our webinar series, "When Disruption Demands Change.
Incentive Compensation
Sales Coaching and Motivation