A Stand-Out Partnership
Salesforce Customer 360
Helps to optimize the engagement between buyer and seller at all stages of the customer lifecycle, thus unifying interaction from lead to loyalty.
Xactly Seller 360
Built on Xactly's Intelligent Revenue Platform, Xactly strengthens Salesforce Customer 360 by unifying engagement and creating alignment from pipeline to paycheck. It enriches pipeline data and reveals insights that help every quota carrier focus on the right indicators, and take the right actions to consistently hit their numbers.
Tight Integration
Xactly's Intelligent Revenue Platform simplifies integration between Salesforce and Xactly. Taking a standards-based approach to the connection between the solutions across both offerings, the Xactly Platform provides bi-directional data object integration, a unified business process management experience and tools to build workflow-specific walkthroughs to drive adoption.
See it in the Stats
We'll let the numbers do the talking
Of Xactly's customers use Salesforce
Xactly's rating on the Salesforce AppExchange
Salesforce motivates their global sales team of over 10,000 on Xactly
Fireside Chat: Creating Predictability in Sales Performance
Xactly CEO Chris Cabrera with Nandini Ramaswamy, SVP, Global Incentive Compensation, Salesforce and Brad Gifford, VP, Revenue and Sales Operations, DXC Technology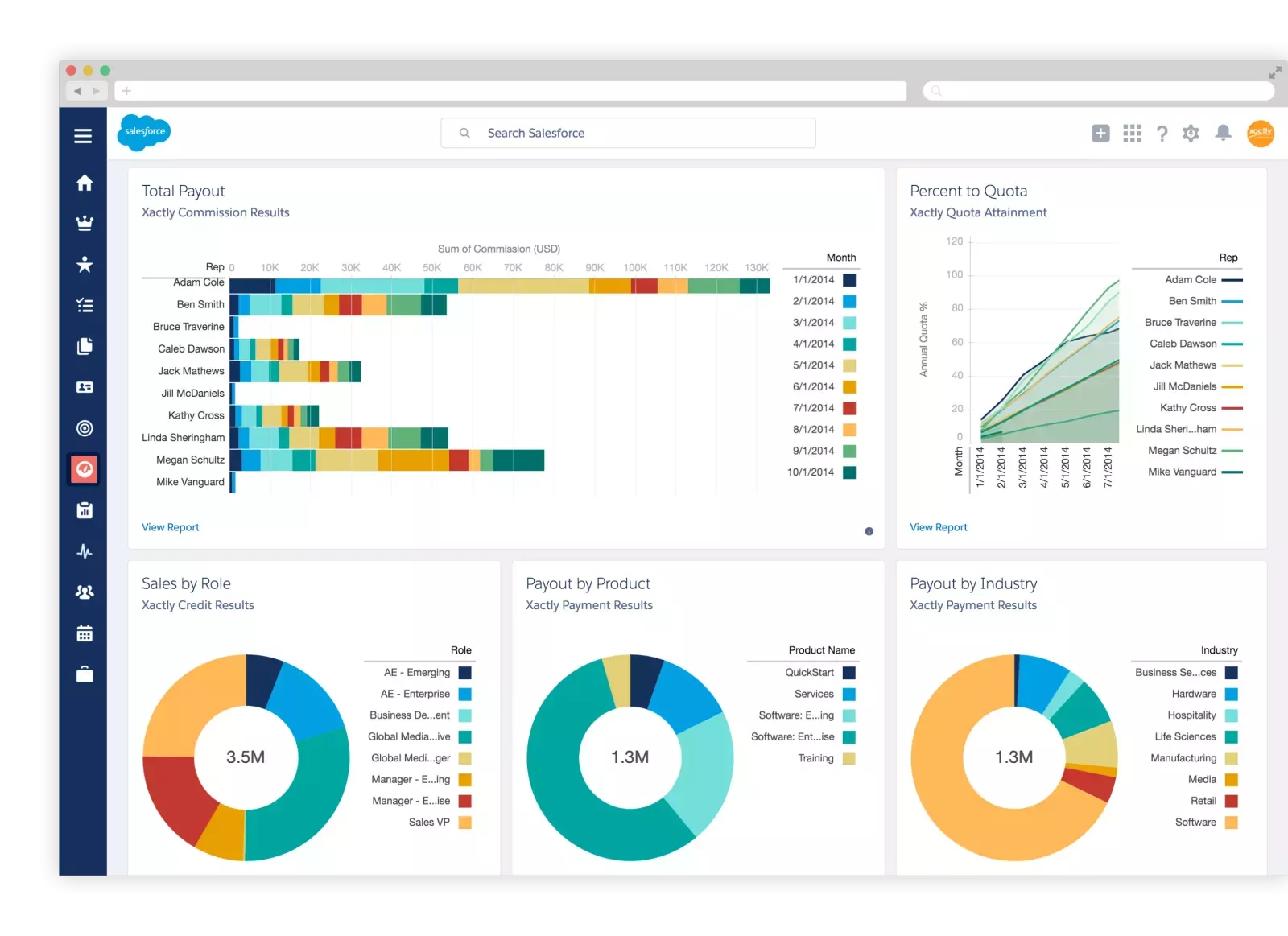 Xactly and CRM Analytics Work Better Together
Gain a 360-degree view of your business and answer strategic questions by embedding Xactly's sales performance AI data alongside Salesforce CRM Analytics right within the CRM user workflow.
Xactly and Salesforce CPQ Work Better Together
Xactly and Salesforce CPQ go together like glue. Together, you're able to maximize the revenue and profit potential of every deal. By using incentives, you can motivate your sales reps to sell the right products at the right price.  Benefits include:  
Maximize ROI of SF CPQ adding pay/performance metrics = improved revenue via price optimization (on average 15% revenue growth). 
Increase sales performance and motivation (increase average of 20% seller productivity)
Testimonial = "Salesforce CPQ and Xactly integrate seamlessly together, giving us the best of breed to manage our lead-to-cash process." Santiago Suinaga Sainz Managing Director, KIO Data Centers