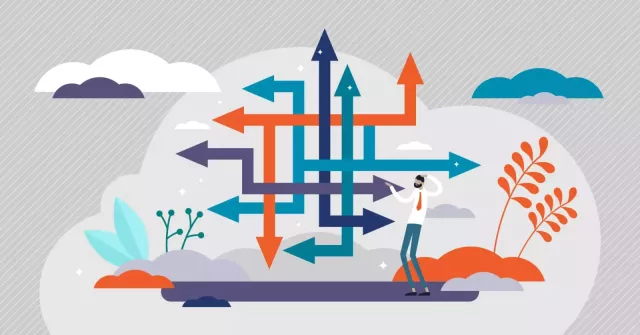 The Secret Power of a Great Forecast
Delivering an accurate forecast, and doing it consistently, strengthens your revenue operations across the entire business. In this guide, discover seven ways forecasting and RevOps work together to deliver accurate forecasts, higher performance levels, and revenue growth.
Do you know how much revenue you'll make in the next month, quarter, or year?
If you had to precisely estimate your future earnings and expenses today, could you do it with certainty? Companies all over the world are doing this consistently, and you can too.
Revenue and forecasting go hand-in-hand. Adopting new sales technology and strategies allows leadership teams to unlock new, sustainable avenues for revenue growth. Accurate sales forecasting is critical for companies to drive revenue predictability and stimulate growth.
What's Causing the Rise of Revenue Operations (RevOps)?
​
 The need for revenue visibility, predictability, and reliability is at an all-time high for organizations looking to not only compete in the current market but also generate consistent, resilient revenue that can withstand disruption and change. This is driving today's leading executives to embrace Revenue Operations (RevOps).
RevOps is a strategy fueled by data and organizational alignment. It analyzes and optimizes a company's current processes to unlock and utilize every aspect of its selling strategy. This is empowering leaders to create a singular source of truth when it comes to accessing data across the organization to uncover performance trends, model for different revenue outcomes, and create more predictable forecasts.
But this is nearly impossible to do without the right technology.
The solution? Accurate sales forecasting.
This is vital when it comes to planning and strategizing for your upcoming fiscal year. It allows leadership to make smarter decisions when setting targets and goals to drive revenue. This results in benefits such as improved pipeline visibility, enhanced seller performance, and increased confidence in number projections. 
Recent Xactly research uncovered that 75 percent of revenue leaders have changed goals in the wake of the pandemic.2 The adoption of intelligent software allows organizations to rely on healthy forecasts because it protects them from adverse competitive and market conditions. This puts them in a position to adapt, plan, and thrive in the present and future.
Revenue forecasting, when done right, bases decision-making on facts instead of gut feelings or limited data. Intelligent forecasting software helps companies understand current revenue potential, what future earnings could be, and what resources or changes will need to be incorporated to help bridge the gap.
The current state of sales, while challenging, has presented opportunities for organizations to take a look at existing sales processes and invest in new solutions to help reimagine performance and goals.
7 Benefits of Intelligent Revenue Forecasting
According to HubSpot research, the average salesperson only spends about one-third of their day selling.4 The rest of their day is spent on non-revenue generating activities such as writing emails, entering data, attending meetings, and other administrative tasks. 
Organizations should prioritize finding ways to keep salespeople selling. The more time reps can dedicate to selling equals an increase in productivity and revenue—all things that affect the bottom line for businesses. One way to increase sales productivity is to empower sales teams. Organizations should ensure that their teams have the right processes, information, and technology required to work effectively. 
By analyzing sales activities, intelligent revenue forecasting solutions allow revenue leaders to understand when and where to introduce additional resources. This helps reps be more productive by automating some of their administrative tasks. It also provides insights for them to focus on the most profitable deals. 
Technology has made it much easier to unify sales teams and adopt common processes. This requires internal alignment, communication, and cooperation between departments in order to operate seamlessly. 
To create internal alignment, you need not only a holistic repository of accurate and reliable data, but also the right combination of tactics, technology, and data in the sales planning process. That's where RevOps comes in.
Organizations need to make sure they have the right processes in place to create a culture of collaboration. By removing operational silos that historically exist between Marketing, Sales, and Customer Success, RevOps enables organizations to develop shared strategies, goals, and metrics when it comes to all revenue-generating activities. When united, these processes help foster accountability, trust, and transparency within your organization. 
High-performing sales teams are 1.5x more likely to base forecasts on intelligent insights.6 This creates a win-win situation for organizations—when data insights increase the chance of closing a deal, both your reps and your organization see a bigger payday. 
RevOps does a great job of simplifying sales, marketing, and customer success operations. Combined with sales forecasting, they work together to identify and eliminate roadblocks to help them move faster and with higher agility. This promotes teamwork, productivity, and data-driven collaboration between these departments. A happy salesforce is one that is equipped to win.
Forecasting has much to offer when it comes to quota setting.  According to research from the Aberdeen Group, businesses that produce accurate sales forecasts are 7.3 percent more likely to hit their quotas and 10 percent more likely to make improvements to their bottom line. 
Setting a sales quota helps you quantify your team's sales performance and help motivate your team towards meeting revenue targets. Quota accuracy leads to higher sales, better returns on salesforce investments, improved market penetration, and better alignment with the business planning process.8
By using intelligent forecasting methods, organizations can:
Spot potential problems early on
Identify new opportunities that previously weren't visible
Utilize guided selling to improve coaching
Gain insights around their sales cycle.
RevOps teams bring two major advantages to sales organizations looking to scale their operations: alignment and visibility. 
In fact, according to a study by SiriusDecisions, companies that align their revenue teams are 15 percent more profitable and achieve 19 percent faster revenue growth.  
When companies use data and resources available to them, they are able to stimulate higher levels of profitability because employees act on the same insights, and, ultimately, are motivated by the same goals. 
A clear understanding of the quality of your sales data is the first step towards unlocking reliable, predictable, and resilient revenue. Companies that inject data and analytics into their operation show productivity rates and profitability that are five percent to six percent higher than those of their peers.
Data across the revenue engine creates consistent and reliable insights in the planning, execution, and optimization of annual sales plans. This helps to break down silos and create new ways of communicating information by giving leaders new ways of streamlining business decisions and processes. 
Intelligent software uses data to reveal the right combination of tactics and technology needed to secure and accelerate growth. Sales organizations that leverage a formal and structured review process increase their win rates of forecasted deals by 25 percent versus those that take a less formal approach.11
Accurate sales forecasts allow leadership to make smarter decisions when setting targets and goals to boost revenue. Leaning on data is invaluable when it comes to having a more informed, introspective, and strategic decision-making process.
The more insights a company can gain around its sales teams, the better its performance and ability to reach its revenue targets. It's why more than 80 percent of companies took some action to accelerate their digital transformation in the past year alone, according to Dell Technologies.13
To stay ahead in a fast-paced, competitive sales environment, companies are turning to technology to assist them in planning, executing, and optimizing business plans. They must leverage digital technologies to create or modify sales processes in order to meet constantly changing needs and adjust to the market.