Xactly AI Copilot combines data and generative AI to enhance Xactly's Intelligent Revenue Platform, delivering contextual insights tailored to your workflow. Backed by 18+ years of performance data, Xactly AI Copilot delivers conversational support that boosts productivity and streamlines workflows across end-to-end revenue processes.
Say Hello to Xactly AI Copilot
AI Copilot helps organizations motivate reps, reduce risk, increase efficiency, and unlock insights by addressing the diverse needs of stakeholders across the revenue lifecycle including Sales, Compensation Administrators, Finance, and Revenue Operations.
Chart your Path to Revenue Optimization with Xactly AI Copilot
Get answers instantly: Utilize an AI engine trained on nearly 18+ years of performance data to extract answers and insights quickly.
Centralize information: Eliminate the need to navigate different systems and endless dashboards—data and insights are delivered in one place.
Automate workflows: Improve execution with automated reports, reminders, and alerts.
Interpret data faster: Access concise summaries to evaluate information and make decisions faster.
Learn more about the comprehensive ways generative AI supports all stakeholders across the revenue lifecycle in our blog.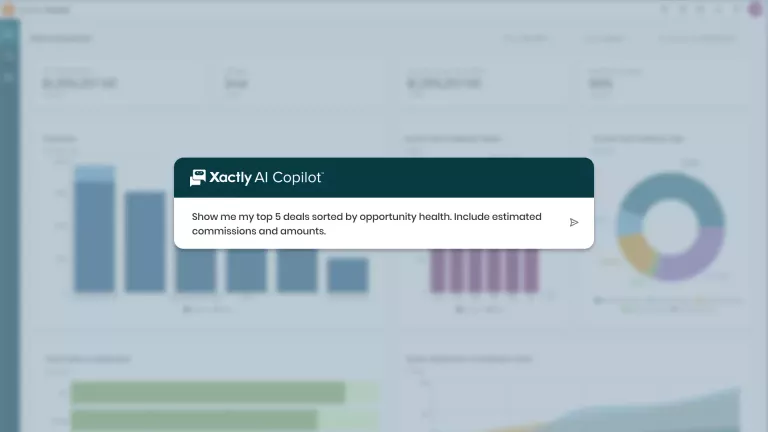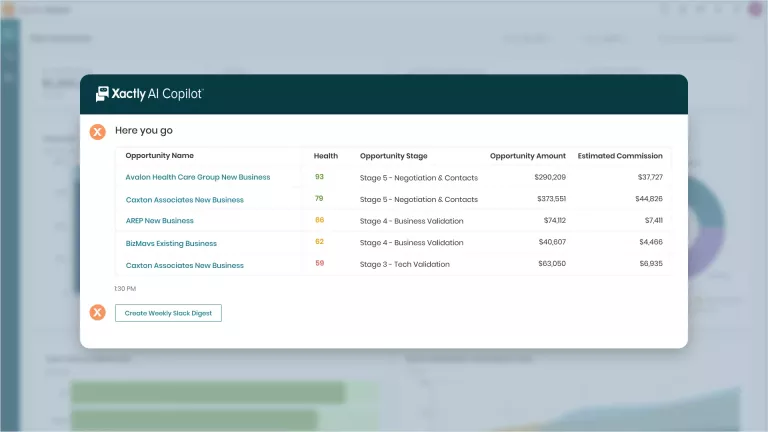 We believe that optimizing the revenue process requires an integrated approach across planning, compensation, and forecasting, fostering collaboration among sales, compensation, finance, and revenue operations. Unlocking insights at the intersection of these domains presents transformative opportunities for businesses.
Xactly is Trusted by Brands You Know and Love
Xactly AI Copilot for compensation will be in pilot phase soon, and will expand to Xactly's other key revenue processes in the near future, including forecasting and planning, enabling sales reps to optimize sales execution and coaching, and finance and operations leaders to effectively model go-to-market strategies.
Join the Xactly AI Copilot Waitlist
Sign up to be one of the first to see AI Copilot in action.