What Does the Ideal Revenue Operations Team Structure Look Like?
Blog
Aug 26, 2022
5 min read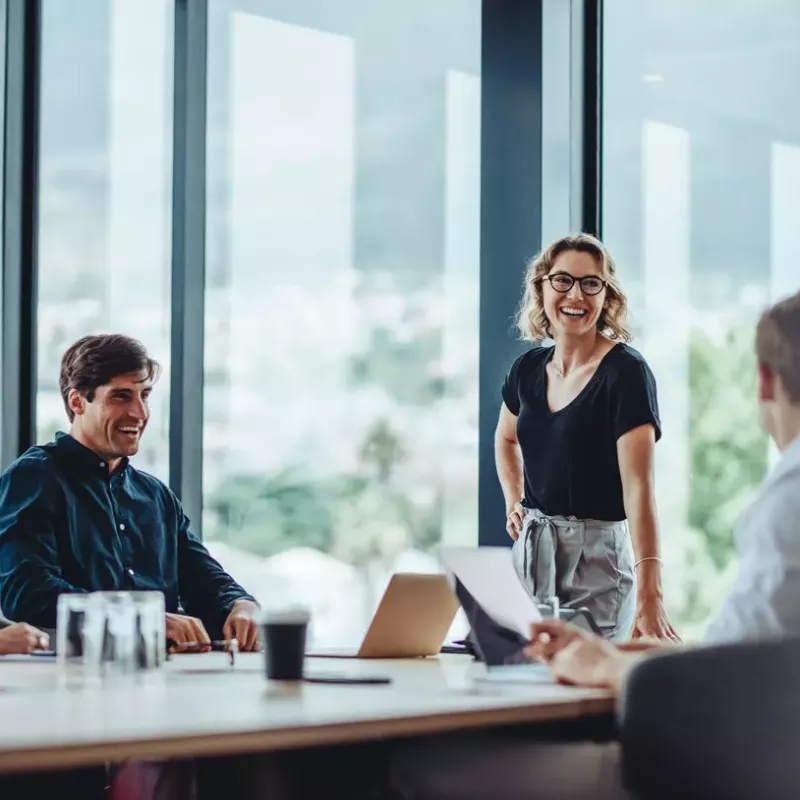 RevOps has quickly become the business strategy of forward-thinking organizations — those that leverage data intelligence to stay agile, be innovative, and continuously grow. The reality of implementing a new RevOps strategy also comes with building a Revenue Operations team structure that supports success.
Revenue Operations teams don't look the same at every company, but there are important best practices that help to ensure success. Read on to learn what RevOps teams do and who is involved, plus ways to achieve an ideal RevOps team structure that aligns with your company's unique needs.
Quick Takeaways
RevOps teams oversee the overarching revenue strategy for your business.
C-suite leaders and VPs of your go-to-market teams are key stakeholders of your RevOps team.
The ideal leader at the top of your Revenue Operations team structure is a Chief Revenue Officer (CRO).
Company size, budget, and RevOps maturity level all impact specific decisions about RevOps team structure.
What does a Revenue Operations team do?
Your Revenue Operations (RevOps) team oversees the streamlined revenue strategy for your business — one that encompasses your most important go-to-market teams: marketing, sales, finance, and customer success. They're responsible for maximizing current revenue outcomes and building new revenue opportunities for your entire organization.
More specific roles and responsibilities executed by your RevOps team include:
Facilitating collaboration across GTM teams
Communicating with the C-suite about revenue strategy
Optimizing the tech stack
Analyzing data and reporting on revenue-related KPIs
Supporting GTM operations across functions
Innovating to streamline processes and manage change
Within these larger responsibilities are many specific roles (more on those later) and tasks to be executed in order for RevOps to become an impactful function.
Who is involved?
The exact architecture of your revenue operations team structure may vary, but there are some important people in your organization that should always be involved:
The C-Suite
The C-suite team must buy into your RevOps strategy and support your team. Without company leadership championing the RevOps cause, there is real risk that it becomes a lost function, working with your traditional departments but without a defined and respected role of its own.
VPs of Marketing, Sales, Finance, and Customer Success
While the leaders of your four main go-to-market teams may not be actual members of your RevOps team, their collaboration is essential in order for it to succeed. As we'll discuss in the next sections, these VPs (or equivalent leaders) should be considered key stakeholders and be part of the process of building your new RevOps team or improving your existing one.
Chief Revenue Officer
A Chief Revenue Officer (CRO) is the ideal leader for your RevOps team because they have unique experience built for managing a modern revenue strategy. Typically, CROs are executives with 10+ years of experience across the roles and functions encompassed by RevOps.
They're objective leaders without specific allegiance to specific GTM functions, and as a peer of your other C-suite executives, they can gain critical RevOps buy-in to support its success.
3 Pillar Contributors: People, Process, Technology
These three pillars of RevOps define how it achieves its goals. In short — by getting the right people hired, implementing streamlined and efficient processes, and optimizing technology tools through usage and integration, you'll be better-equipped to achieve your revenue goals.
Your Revenue Operations team structure needs to include individual contributors to support each of these pillars. The exact makeup may vary by company, but the experience areas that fall under each pillar look something like this:
People - human resources, employee engagement, professional development, team building, leadership
Process - operations, consulting, business process analysis, policymaking, management
Technology - software development, enterprise architecture, vendor management, IT support
Factors that Impact Revenue Operations Team Structure
Company size
Depending on the size of your organization, you may not have the ability to hire a brand new, dedicated Revenue Operations team — at least not all at once. Many small companies start with a RevOps committee made up of the people mentioned in the last section.
In some cases, the company may hire a CRO without building out a RevOps team that directly reports to them. Instead, the CRO collaborates with the leaders of other GTM teams (and may oversee them) to build and execute a RevOps strategy.
Budget
Even if your organization is large and you do have the capacity to hire a new team, your budget impacts the types of roles you can hire (i.e. entry-level experience vs. senior employees) and the pact at which you can hire them. It's important to set and know the budget for your RevOps team so that you can prioritize hires accordingly.
RevOps maturity
The types of roles you need to prioritize in your Revenue Operations team structure also depends largely on your RevOps maturity level. In the very early stages of RevOps maturity, for example, focus must be on building revenue visibility and analytical capabilities. Later on, when things are running smoothly, more focus can be put on roles like support staff.
It's important to note that just because you don't have a formal RevOps team doesn't mean your maturity level can't be high. Evaluate your RevOps maturity level before you build your team so you can align your hiring strategy and structure accordingly.
Building the Right RevOps Team Structure for Your Business
Include all key stakeholders
Include your key stakeholders — like those we covered earlier in this article — in the process of planning your new RevOps team or strategy development for improving your new one. Not only does inclusion build buy-in for your RevOps cause, it provides important perspectives that help you deliver more value through RevOps to employees and customers.
Assign an effective leader
Even if you're not hiring a CRO, someone in your organization should be designated as the head of RevOps efforts. In the beginning, it may be a committee chairperson. If a CRO is not in your plans at all, perhaps the CFO or COO will lead the charge. Depending on the actual people in the roles and the makeup of their responsibilities, companies may choose differently to this end. The important thing is to choose someone who has the experience to handle RevOps oversight, the bandwidth to commit, and the willingness to do it enthusiastically.
Make your RevOps team structure visual
Once you've decided how you'll build your team, create a visual representation to support the visibility of and adherence to your revenue operations team structure. It can be as simple as a traditional org chart — it just needs to be something tangible that can be shared and promotes RevOps understanding across the organization.
Hire your team
Once you've done the prep, it's time to take action! Work with your human resources team to execute a thorough hiring process and ensure you get the right people on board to be part of your RevOps vision.
Manage RevOps with Confidence
The Xactly Intelligent Revenue Platform brings Revenue Operation teams together to support salespeople with precise plans, better incentives, and data-informed insights to give them more confidence in their pipeline.
Learn more about how we can help you transform your revenue strategy.