Uncover Tips to Prevent Sales Burnout on Your Team
Blog
Nov 08, 2022
3 min read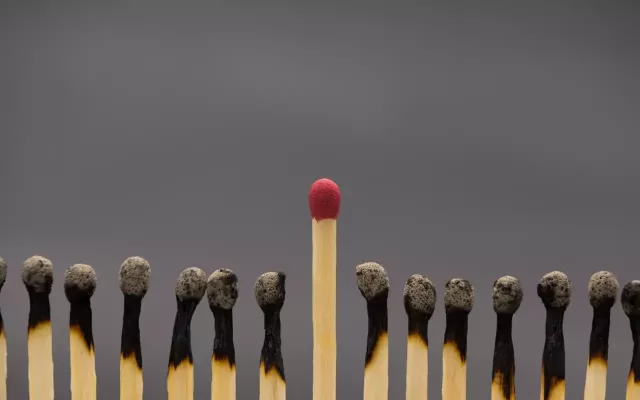 Stress, overworking, and high-pressure can all lead to sales burnout. Discover tips to avoid sales burnout on your team to retain top reps and high performance.
Understand How to Better Manage Sales Burnout
Burnout can happen at any time in any role, and is happening more often as remote sales teams are growing in popularity. Because it can be a demanding, high-stakes job, sales is a position that is prone to fall victim to the stress, overworking, and pressure that ultimately can lead to burnout. Xactly data shows that in recent years, sales reps are rejecting the idea that burnout is the price they have to pay for success.
So how do you help manage heightened stress levels when you're already working in a high-pressure role and circumstances outside the office are also having an impact on a global scale? The first step is understanding what sales burnout is, how to address it, and ways to prevent it.
How to Identify Sales Burnout on Your Team
To identify the signs of burnout successfully, you must first understand what causes it. Typically, burnout results from high-stress, demanding workloads, and high-pressure economic instabilities for a prolonged period of time. In the sales industry, over four out of five sales leaders are likely to change jobs if the country's economic situation doesn't recover.
In reality, sales rep burnout is just another version of quiet quitting due to the particular challenges of selling. So its "symptoms" are similar to that of any person who has been worked to their limits. Here are some key indicators to look out for: 
Physical exhaustion: This can take the form of unshakeable insomnia or an unscheduled nap at work
Emotional exhaustion: Prolonged lack of empathy, compassion fatigue, and depersonalization
Increased negativity: Uncharacteristic aggression, cynicism, added anxiety, and work detachment
Decreased interest: Especially when it comes to professional development or participating in team/company-wide engagements
How to Prevent Burnout in Sales Teams
For some employees, these sales burnout "symptoms" may manifest gradually and be harder to notice. But it's critical for both management and peers to train themselves to look for signs that someone is suffering from burnout. If you notice that a rep is struggling to achieve their sales quotas, has lost interest, and/or is lacking their normal enthusiasm, the quicker you can act, the better. Here are five tips to avoid burnout across your team.
1. Examine Incentives and Responsibilities
Rep performance tends to level off and decrease after two to three years on the job. With the added stress from economic uncertainties, performance may be taking an additional hit, regardless of how long a rep has been in their role. This presents an ideal time to talk with each member of your team about their career goals, their satisfaction with their current role and, if possible, explore advancement opportunities or incentive increases.
2. Ensure Reps Have the Resources They Need
Sales as we know it has changed forever. We're no longer always sitting in face-to-face meetings or engaging in on-the-spot coaching. As many roles are now work from home or hybrid schedules, these changes are going to continue to impact rep performance and development. It's important that remote sales teams have the tools they need to do their jobs effectively, meaning you should work to ensure they are receiving regular coaching, skill development, and have the equipment they need to be successful in their sales roles.
3. Consider Additional Tools to Help Reps Perform Better
Working from home full-time is something the sales industry has experienced before. Reps and leaders need to be able to see how deals are progressing, how performance is trending, and if forecasts are on track to hit goals. This isn't something they can do without the right tools and technology. And it's the reason 80% of companies have accelerated their digital transformation, according to Dell Technologies. 
4. Make Employee Wellness a Priority 
Wellness, and work/life balance has become an integral part to a sales reps success. Xactly data shows that 20% of sales leaders have changed roles in the last 2 years due to an unbalanced. That makes the risk of sales burnout much higher and the need for a healthy work-life balance is essential. This can be as simple as encouraging reps to take breaks throughout the day, offering meditation and yoga sessions, or implementing company-wide mental health days.
5. Practice Empathy
Regardless of how you help reps reduce stress, empathy is key. Check-in with your team members, and have conversations that don't focus on work-related issues. Using employee listening to survey and get a better understanding of how your reps are doing can be a good way to gather insights anonymously.
Preventing Sales Burnout in the New Sales Era
Selling as we know it has changed forever. And teams will have to continuously adjust in order to succeed. But at the core of your sales performance are the people selling, and making sure their wellness is prioritized is extremely important. 
You may not be able to completely eliminate the risk of sales burnout, but taking steps to ensure your team is supported is a great first step. To learn more ways you can arm your team for wins in the new year, check out our latest guide, "Accelerate Your Sales Performance Management Journey."
Sales Coaching and Motivation