Incent, by the numbers.
Return on investment over three years
Average reduction in overpayments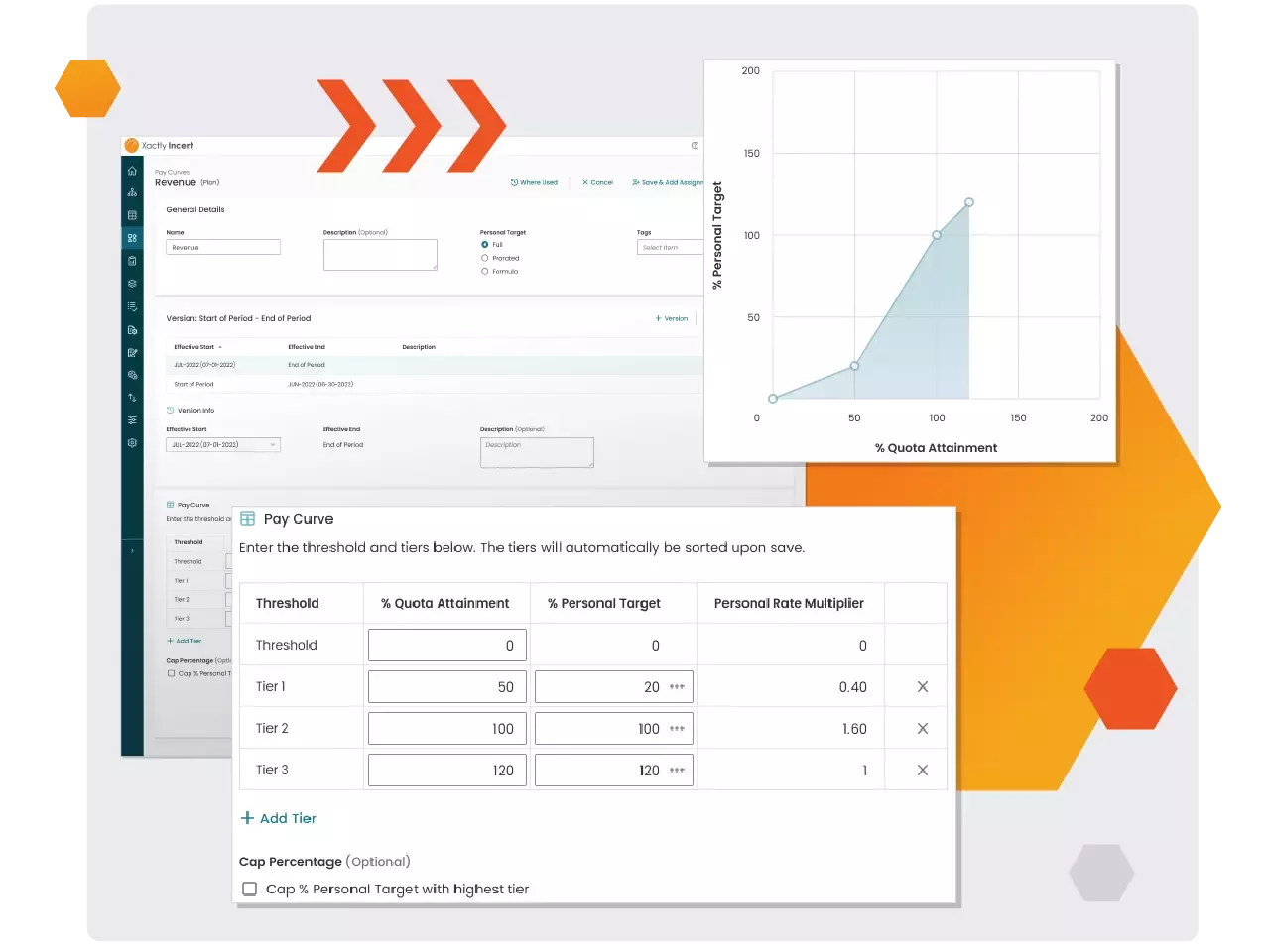 Features
Configure, optimize, and grow.
Compensation Configurator.

Streamline compensation planning with reusable elements like rules, quotas, and rate tables—optimized with AI trained on 18+ years of proprietary data—to craft even the most complex comp plan with ease.

Customized Incentive Statements

Show reps exactly how their commissions break down, with unprecedented clarity. Transparency builds trust—so your team can focus on selling, not double-checking commissions.

Real-Time Reports and Dashboards

Track sales performance and comp plan effectiveness and get real-time insights into new sales opportunities. Our dashboards are ready to go out of the box—or you can tailor them to meet your team's specific needs.

Drag-and-Drop Hierarchy Management

Manage reporting structures, relationships, and who gets credits for which deals—with ease. And as your business grows, it's easy to add headcount and accommodate increasing complexity with just a few clicks.
Design better sales compensation.
Create and manage any type of compensation plan—from the simple to the complex. Xactly Incent is purpose-built with best practices baked in, so you know you're designing the most effective compensation plans for your teams.
Simplify plan design and adjustments with reusable rules, quotas, and rate tables.
Make plan rollover for the next year a breeze.
Drive the right behaviors and boost quota attainment with compensation plan insights.
Create competitive plans and retain top sellers with Xactly's 18 years of proprietary pay and performance benchmarking data.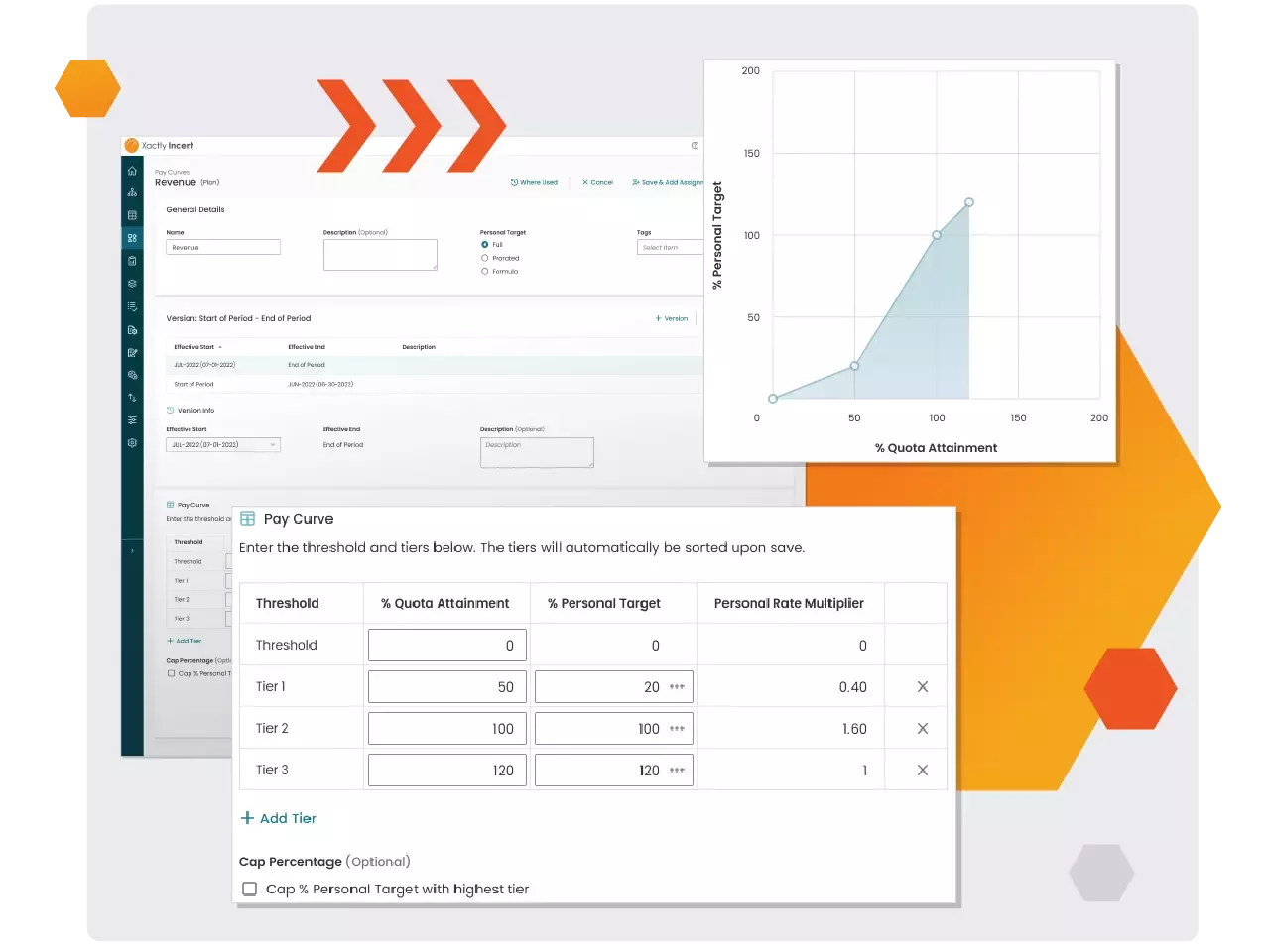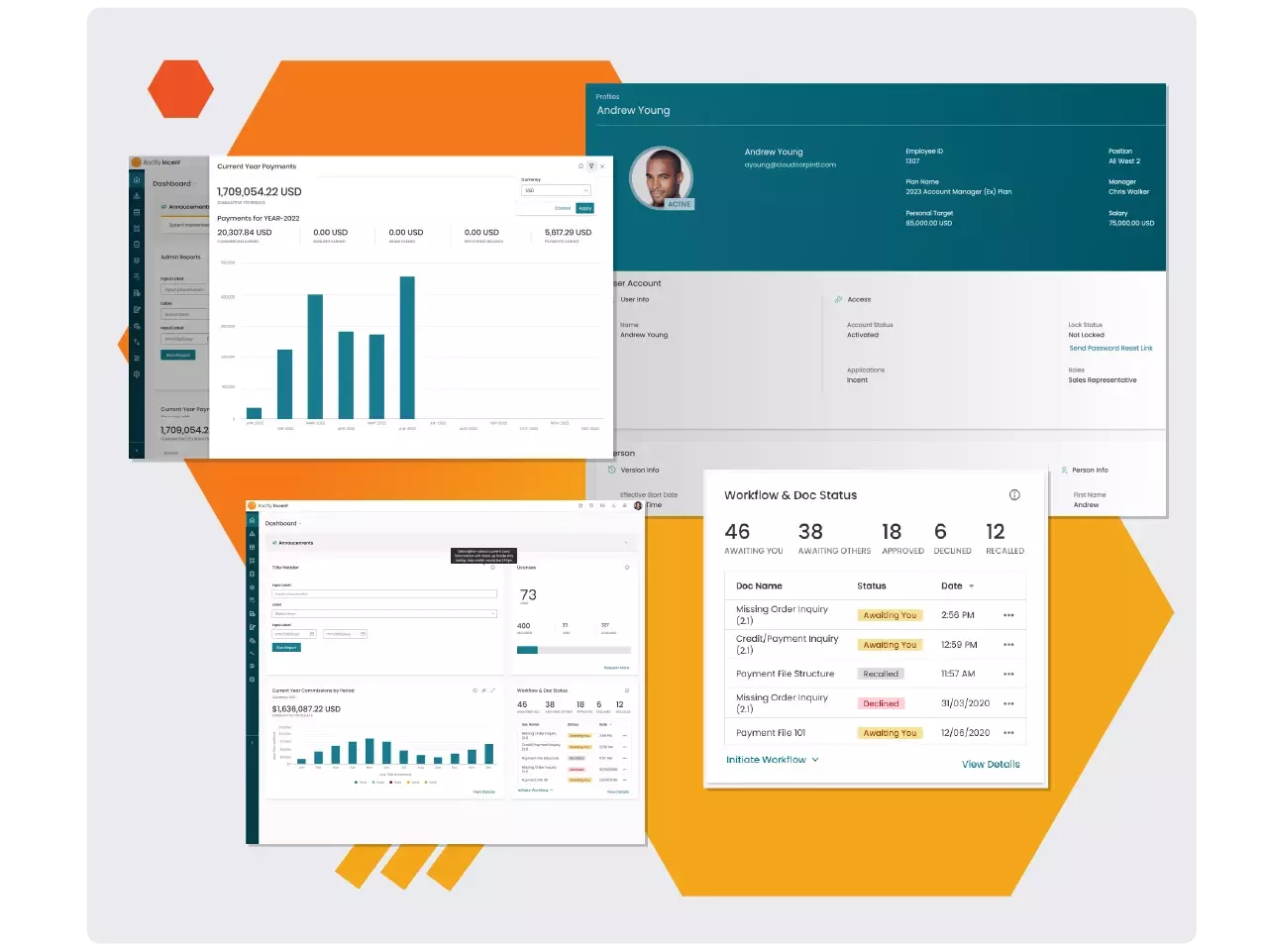 Ditch the spreadsheets.
Automate complex commission calculations and everything that goes with it so your teams can focus on more strategic work. Incent creates efficiencies across the board—allowing teams to speed up payroll close, accrual close, and have a complete audit trail to back it all up.
Ace your audits every time and increase compliance efficiency by 65%
Increase accuracy up to 99% by eliminating payout errors
Get payments right the first time and reduce compensation inquiries and disputes
Drive better performance.
Provide reps with on-demand visibility into their pay and potential earnings for every deal in their pipeline. Build trust by getting their payouts right every time, and motivate them with insights into their overall performance to drive better results.
Give reps access to detailed incentive statements and compensation plan documents
Estimate potential commissions with current comp plan designs and deal data
Access performance data on any device anywhere with native Android and iOS support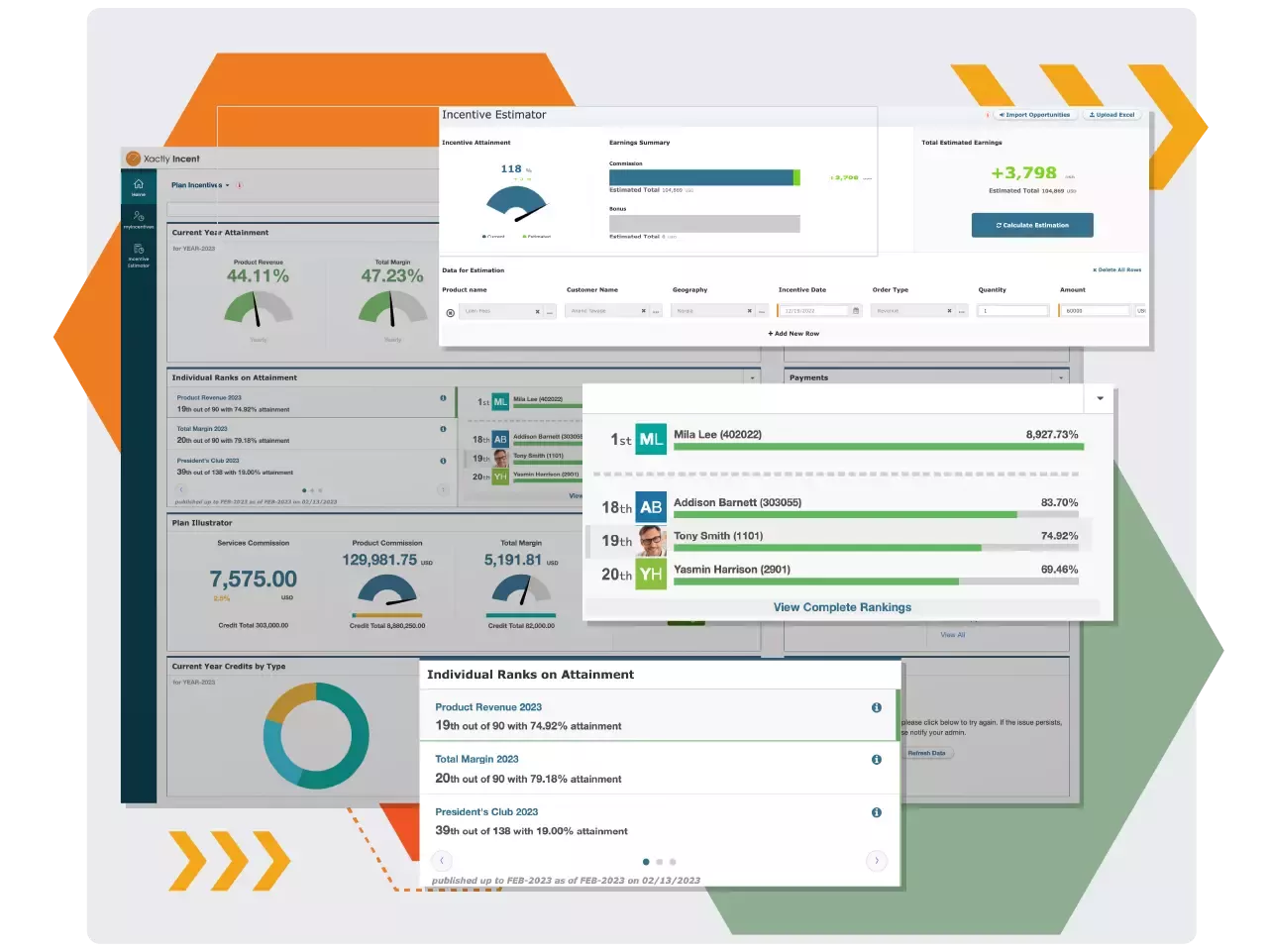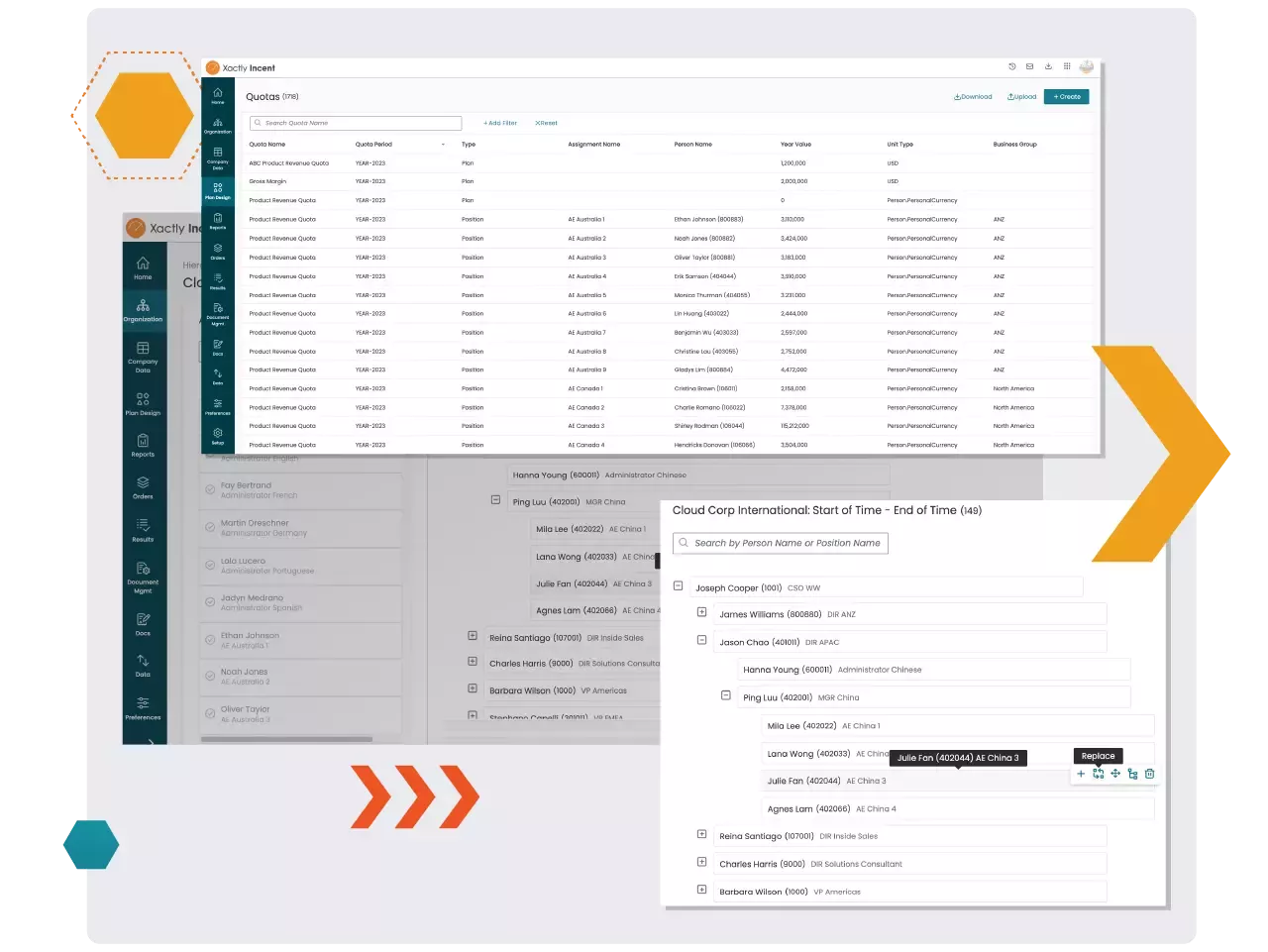 Scale your compensation programs.
Xactly easily scales as you grow—providing you with future-proof compensation. Incent handles the most complex calculations with the ability to add tens of thousands of payees, process billions of transactions every month, and quickly add new data sources when needed.
Process over $7 billion calculated commissions and bonuses monthly
Make adding headcount and increased complexity is easy for commissions staff
Xactly takes its customers' needs and feedback into account when it comes to product development. When we ask for specific functionality, Xactly listens. That's part of what makes Xactly a business partner and not just a vendor. We have tremendous support and experience new intelligence and innovations with Xactly.
Xactly Incent is the solution that people in the sales compensation industry use most widely, and the amount of support my team receives from Xactly and its extensive partner network is exceptional.
Xactly has taken the area of sales compensation to a different level – we're not just talking about the pay, we're talking about how we go to market, we're talking about sales strategy and how we support our sales organization.
Connecting Salesforce and Xactly was a turning point. The downstream effect of compensation within the entire revenue lifecycle is lost without a solution like Xactly. You have to measure it if it matters. What other way do you have to measure if people are happy, if an incentive worked, and if your organization's goals are being hit?
Xactly is very easy for reps to use. They simply click on their incentive statement to see their results, and click again to drill down to deal details. Salespeople now trust their compensation calculations, which has given them back some time to focus on selling rather than calculating.
Using Xactly gives us a competitive advantage in retaining top performers. When I talk to my peers and potential employees, they are impressed that we are doing this and it's a draw for them to work at the company.
Frequently Asked Questions
Why is incentive compensation management important?
Incentive compensation management (ICM) software combines sales and employee data in one place, facilitating the easy calculation of commissions. Effective incentive compensation programs help sales reps focus more closely on their performance, while encouraging them to manage leads and close deals. When ICM software provides you with accuracy and transparency, it helps motivate sales personnel, retain key staff, and drive better sales performance, while interactive dashboards help the organization to highlight sales opportunities.
How do you choose the best ICM software?
Choosing ICM software is a multi-stage process that starts by analyzing your business needs and goals, and how you plan to incentivize sales reps.
Prepare a list of potential vendors and ask them for proposals.
Analyze their submissions according to the ability to calculate sales commissions and how their software integrates with platforms such as your CRM, ERP and HCM software.
Evaluate software vendors against factors such as solution scalability, flexibility, automation, payment accuracy, and software support.
Compare the vendor solution's operating costs against your current costs.
Speak to their customers and check customer reviews.
Why utilize incentive compensation management software as a Sales Leader?
ICM software helps sales leaders motivate and encourage commission-based sales teams to meet and exceed sales targets. Incentive compensation software allows the organization to compensate top performers efficiently and accurately, and helps sales representatives manage and monitor individual sales targets.
Who should care about Incentive Compensation?
Every executive in a sales-driven organization should care about incentive compensation as it's more than just a tool to encourage better performance from sales reps. Rather, the application of carefully structured ICM solutions helps:
Compensation Administrators evaluate appropriate incentives 
Sales managers understand and manage sales performance figures
Human Resources departments recruit and retain the best talent
Financial managers manage compensation
What CRM integrations does Xactly Incent® support?
Xactly Incent supports most CRM solutions with its open and scalable architecture. When coupled with Xactly Connect®, admins can manage the data flow for processes touching ICM, SPM, and the revenue journey as a whole, aided by integrations with CRM solutions that include but are not limited to:
Salesforce
NetSuite
Snowflake
HubSpot
Microsoft Dynamics
Workday