What is The Great Resignation's Impact on Sales?
Blog
May 10, 2022
6 min read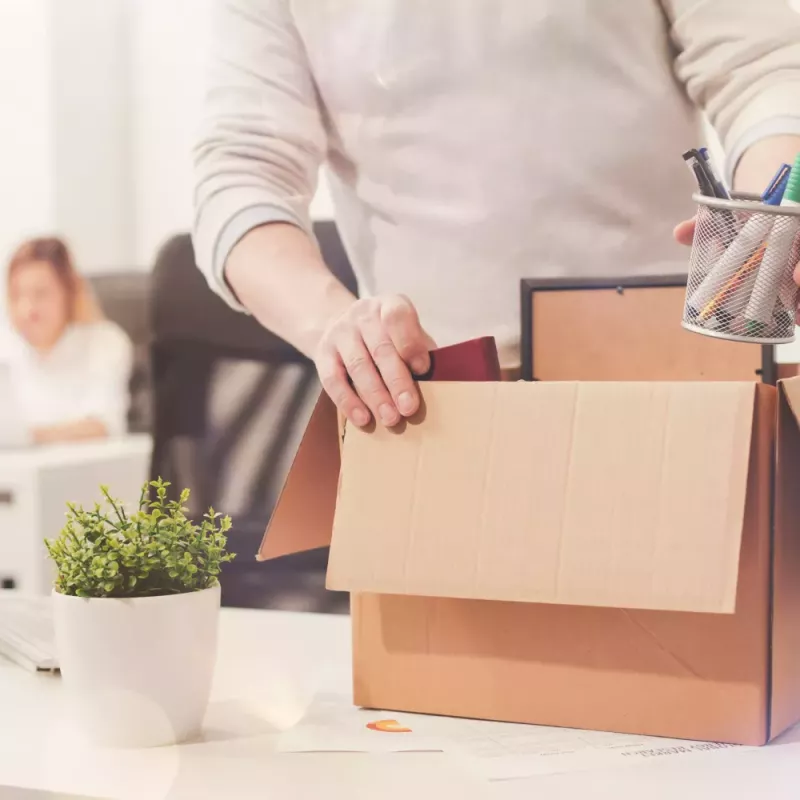 The Great Resignation's impact on sales is undeniable. Explore actionable ways your business can combat its negative effects and adapt to changing employee demands.
In May 2021, Texas A&M University professor Anthony Klotz coined the now-common phrase "Great Resignation." Klotz explained that any time of uncertainty is typically followed by a jump in resignations, pent up from the period when employees felt they had to stay put.
Compound that with the normalization of full-time remote work and the subsequent employee demand for permanent workplace flexibility that occurred during the pandemic, and it's no wonder we're seeing resignations at an unprecedented pace.
In 2021 there were historic peaks in resignation numbers, higher than any other year in recent decades.
The Great Resignation is continuing through 2022. Reports from March of this year found that 44% of employees are still actively looking for a new job.
In order to attract and retain top talent now and in the future, companies must look at how they're meeting employee needs and demands. Read on for actionable ways you can stem the tide of The Great Resignation and create a culture that makes people want to work for — and stay with — your company.
Quick Takeaways
Initially caused by burnout and feelings of underappreciation, The Great Resignation is now driven by employee demand for higher pay and workplace flexibility.
Turnover rates are higher for sales employees than others.
Businesses must adapt hiring practices to meet new employee demands and create more attractive working environments.
Retention programs can make employees feel more appreciated and help companies retain top talent at a higher rate.
What is causing The Great Resignation?
Unemployment rates quickly climbed to historic highs in the early days of the pandemic. As they stabilized over the next year, companies and workers alike felt initial relief. However, something alarming started happening between April and August 2021. The "quit rate," or resignation rate, started climbing to record numbers.
Many labor experts attribute the resignation rates to pandemic-related burnout and a general feeling of being underappreciated. According to the Limeade Employee Care Poll, 40% of employees left their job because they felt burnt out, while 37% left for better pay. Healthcare and food service workers were resigning at an even higher rate.
On initial thought, this might not be surprising given the volatility of that time. But as the pandemic continued to run its course and the world moved back toward normalcy, the above sentiments seemed to grow across industries and employment levels.
A common theme was becoming clear: workers weren't settling for pre-pandemic workplace conditions. While the pandemic created stress and uncertainty for employees (and the world), it also brought to light the benefits of remote work and other flexibility benefits.
Perhaps even more importantly, it demonstrated how quickly and efficiently companies could implement remote, flexible work environments. Going forward, it wouldn't be an option for companies to demand a return to previous norms.
Now, if companies want to have top talent, they need to find compromise between their ideal operations model and the environment in which employees want to work.
The Great Resignation Impact on Sales
The sales industry has undoubtedly felt the impact of The Great Resignation. An Xactly study found that 58% of companies experienced higher voluntary sales turnover after the start of the pandemic.
Voluntary sales departures were highest for technology and software companies at 67%. Additionally, HubSpot reports that the average sales turnover is 35%, nearly triple the average for all other industries at 13 percent.
Part of this problem is likely the demanding nature of sales jobs. Sales reps may find it more attractive to find a new job that pays better, is less stressful, and has more time flexibility.
Along with the explicit cost of losing an employee, there are also some hidden costs in sales turnover rates for companies.
Disengaged Sales Staff: Sales associates who are looking for another job are likely mentally checked out of their current position. These associates won't be working as hard to capture sales, which will lead to lost revenue.
Underserved Buyers: As you lose sales staff, there will be willing buyers who do not get the attention they need. While you may shuffle prospects to other sales associates, those associates will feel stretched thin. A buyer who doesn't get the attention they need may walk away from a sale.
Inexperienced sellers: As you hire new associates to replace the old ones, it takes time for them to be fully onboard with your processes. Most new sales associates can take 6-12 months to become fully productive.
Adapting Your Hiring Process During the Great Resignation
Revamp Your Management Style
Many employees leave their jobs not because of inadequate pay, but because of management. If your previous management style was strict and inflexible, consider how you can better align it with employee preferences in 2022 and going forward.
When it's possible, consider offering your employees hybrid schedules that let them work remotely part of the time and with more flexible hours. This can help attract workers who are now used to these types of work schedules.
Pay Attention to the Unique Needs of Your Employees
It's easy to have a one-size-fits-all type of work environment, but today's workers will not all fit into that box. One recent survey found that more than 50% of people looking for a new job considered flexibility as a top consideration.
Talk to new employees about their needs and preferences. Look for trends and work to offer benefits that many employees ask for. On an individual basis, try to allow flexibility for unique needs or circumstances that may exist. Be inclusive about the specific needs (like holidays or weekly schedules) that come with different cultures and home environments.
Be Transparent About Your Business Expectations
While flexibility is a key attraction for new workers, you still need to run your business. Be up front about making your business a priority. Ensure your employees understand what deadlines are crucial and when and where flexibility is allowed. Don't surprise employees with rigid rules that weren't outlined previous and/or don't have a solid purpose.
Make Leaders Accessible
One of the best ways to value employees is to also value their questions and input. Making your company leadership accessible not only shows that employees are valued at every level, it gives your leaders the important opportunity to gain insights from team members in every part of your organization.
Retaining Your Employees Through the Great Resignation
Quantify Your Resignation Problem
You can't address potential resignation challenges without understanding the scope of your problem. You can calculate your turnover rate using the following formula:
Number of separations per year/Average number of employees = Turnover rate
Use similar equations to determine where the turnover is coming from: resignations vs. firings. Once you know how much of a turnover problem you have, you can look at how it affects your revenue. Having numbers in hand can help lead you towards a solution.
Find the Causes
Once you understand how turnovers affect your bottom line, you need to learn why people leave. Look at various metrics like:
Compensation
Ease of upward mobility
Size of raises
Performance
Training blind spots
One of the best ways to do this is by doing exit interviews. With nothing to lose, resigning employees can give you honest answers. Use their answers and your research to target problem areas.
Create a Retention Program
When you know how much it costs you to lose employees, it is easier to make the case to create a well-developed employee retention program. Use the data you gathered to focus on your employees' biggest struggles.
For example, if people are quitting because they feel unappreciated, create a program that recognizes big and small wins within the company. You can also reward your employees with bonuses for certain activities and host special events that help them feel like part of your business family.
One option for some businesses is to offer their employees ownership opportunities. According to a report from NBC News, employee-owned businesses are experiencing fewer effects from the Great Resignation. These businesses have lower turnover rates and higher employee satisfaction.
Employee-Owned Companies Retaining More Workers During The 'Great Resignation' (video)
Xactly Can Help You Incentivize Your Team
Your business has likely already felt the effects of the Great Resignation, especially if you are in sales. As you work towards recovery, you need to do what you can to keep your current employees. Xactly can help you with that.
We offer unique incentive compensation management and strategic sales planning solutions that can help you better manage your current employees and head towards revenue growth.
Ready to see how Xactly can support your business? Schedule a free demo today.
Sales Coaching and Motivation
Sales Planning